I'm loving life right now and it's all thanks to a 3-hour visit to spa LONDON this weekend. Midway through grey, gloomy January I decided a girl's day out was in order and it had to be far enough away that we could 'look forward to it' for a few weeks. So I booked myself and two lovely gals in for the Thermal Spa Experience (£25 pp for 3 hours, bargain) at York Hall, Bethnal Green and waited patiently, gracefully, like laaaadies, for our day to roll around.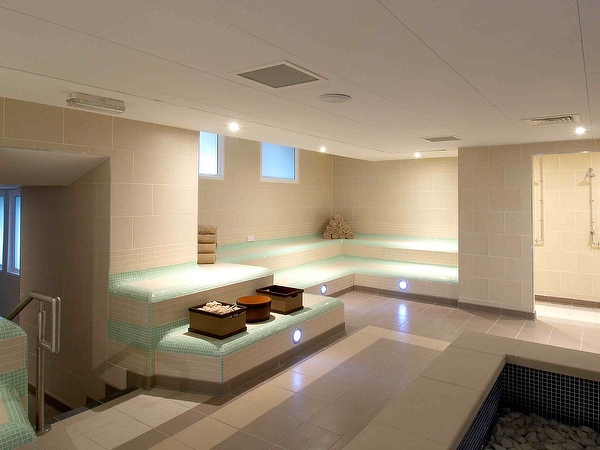 WHAT YOUR £25 THERMAL SPA EXPERIENCE GETS YOU: I'm going to put it out there: I'm not made of money. Some women can afford to drop a couple hundred pounds on spa days that involve champagne, massages, colonics, seaweed wraps, caviar facials and other witchcraft indulgent treatments I will probably never experience. I'm not one of those ladies. To be honest, super-high-tech beauty treatments terrify me and even if I had that much cash I'm not convinced I'd feel comfortable in that kind of scene.
What I do like, however, is feeling pampered. I adore uninterrupted relaxation time and I like it even better if it's in a lovely, serene setting. I can't really create any semblance of serenity at home, so I outsource that shit to the experts. And spa LONDON do serenity well. The basic spa experience gets you a fluffy robe, towel and fancy flip-flops and full access to all areas of the spa. I'm talking aromatherapy steam rooms, saunas, turkish baths, plunge pools and monsoon showers. I'm talking complimentary fruit bowls, chilled lemon water and peppermint tea on tap. I'm talking squidgy loungers with stacks of magazines, waiting just for you. I'm talking three hours without checking your damn phone and complimentary use of ghd hair straighteners and nice handcreams once you've finished relaxing.
We started out in the sauna, migrated to the icy-cold plunge pool and had to recover from the experience with some hardcore reading time on the loungers. Next stop was the eucalyptus-aromatherapy-steam-room, followed by some quiet time in the tepidarium and then back to the loungers. Basically all you do for three hours is lie down in one room, and wander to another, and repeat the process. Eat, sleep, relax, repeat. Amazeballs. If you're feeling extra indulgent you can add on facials, pedicures, massages and such on top of the base price. Add-on treatments start from roughly £25. 
WHAT'S THE DEAL WITH THIS PLACE? WHY SO CHEAP? HOW? I'll let the spa LONDON people speak for themselves, using the blurb from their website – they're aiming "To make the therapeutic and recreational benefits of spa culture more accessible, affordable and widely available." So basically the kind folks at spa LONDON work in partnership with local councils to deliver day spa experiences that locals can actually afford: in some locations you'll get a cheaper rate if you can prove you live nearby. And that's A-OK by me.  There are five locations across London so chances are, there's a spa nearish.
DETAILS: Visit http://www.spa-london.org/thermal-spa/ for more details. Male-only or female-only sessions are available at some locations; the York Hall branch we visited offers the women-only service on Saturday afternoons.