Following my previous post about starting my yoga teacher training  journey, here's a snapshot of what I'm actually doing.
I've spent the past 8 weeks doing self-study in preparation for this 14-day immersion in Pohara Beach, Golden Bay.
While no two days are the same, here's a flavour of a typical day here 🙂
6:30am-8am yoga practice
8:00 -9:30am breakfast and study time
9:30am-1:00pm lessons, teaching practice, discussions on juicy stuff like meditation, philosophy/history of yoga, anatomy studies etc
1:00-3:00 lunch, study time, prep – this is where we either have our introvert alone time in the sauna or spa (on rainy days) or go for beach walks or shopping trips to Takaka together 🙂
3:00-5:30pm lessons, teaching practice – we teach each other and get feedback on how we can improve our instructions, assists, voice, timings, presence etc
5:30-6:30pm dinner break: we eat a delicious vegan meal together outside, rugged up against the elements and under a tarp if it's raining
6:30-8:30 evening lectures or sometimes fun stuff like singalongs, brainstorming, watching educational yoga films etc
8:30pm til 8am is "quiet time" aka introvert heaven.
The days are quite long and there's a lot of information to process, which can be hard – as you would expect when absorbing a new topic. I am not complaining though: we are so lucky to be here. A 14-day immersion, while intense, is far easier to fit around work and family commitments than other teacher training options in NZ and abroad.
This Golden Bay course was also a cheaper, simpler option than other studios in Wellington who require their students to go to Bali for three weeks or Australia for a month.
Every day here I'm reminded I made the right choice for me. And it feels good.
Tonight was our eighth day here and we all started to lose the plot a bit after a full day of anatomy training plus too much chocolate late at night. This evening I 'romanced' Norm the skeleton (named thus as he is anatomically "normal") and a few of us wound up cry-laughing and snort-cackling over a tiny ridiculous dog in the yoga movie "Why We Breathe" so it's fair to say we're cracking up a bit. In a fun way.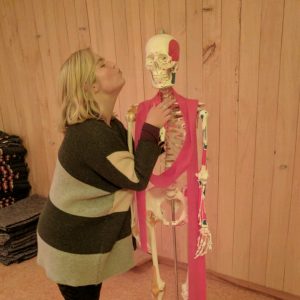 When we aren't cracking up I also absolutely love the enforced quiet time. As fond as I am of my fellow yogis (who are utter darlings and I adore), I need alone time to recharge. We're encouraged to not speak to each other between 8:30pm-8am unless necessary and to be honest it's a revelation. I feel such a relief to have no need for the polite-but-pointless small talk people often use to fill awkward silences when living in close quarters with others.
We have so much to process and so much to do that moving silently around each other is utterly refreshing.
Each evening we retreat into ourselves and move cosily and silently around our shared cabins together. Pottering with books, hot water bottles, pots and pots of tea and our study books as we listen to weka and pukeko calls in the darkness.
Delicious.