We've sampled many a curry, cocktail, craft beer and dessert while we've been immersing ourselves into the Wellingtonian culture but this post is all about the sweeter things in life.
First up: Louis Sargeant. Oh my, this place is The Best. My boss took our team here for a treat and it knocked my socks off. This delightful orb of a pudding was called 'Glamour'. It was a concoction of violet and blackcurrant jelly and white chocolate wrapped around a delightfully light and fluffy mousse centre. Garnished with unicorn dust (aka silver foil), Like A Boss. I likes me some silver foil.
At any rate it was in the heavenly patisserie counter at the front of the restaurant – also filled with delectable-looking tarts, éclairs, croissants and other wildly distracting treats. Just go there. Right now.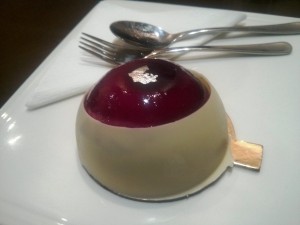 The verdict: 4.5/5 for taste, Frenchness and overall awesomeness.
The place: Louis Sargeant, 146 Featherston Street, Wellington.
The budget: Something for everyone. You could spend $10 on a cake to takeaway. Or a lot more.
Next up: Hippopotamus
I took my mum here for a special girly high tea outing and she was well impressed, innit. Arguably more so since it won the global High Tea Challenge today, a mere week after we went. We had the pleasure of sharing our high tea with other literary aficionados, as the high tea was a fundraiser for the Katherine Mansfield House & Garden (go there, it's great!).
We enjoyed champagne, almond tea, crab mousse in adorable wee jam-jars, spoonfuls of a hazelnut mousse, beautifully clean-cut sandwiches and a mouthwatering assortment of choux pastries, hand-crafted chocolates and classic fruit tarts. Plus a macaron to finish, naturally. It was a beautiful afternoon with impeccable service, perfectly balanced flavours and general good cheer.
My mum was just delighted by the whole experience, so I'd definitely recommend it for a special occasion. I'm disappointed that my photo doesn't really do the feast justice. I was so excited to eat everything that I wasn't focusing my camera properly. Whoops.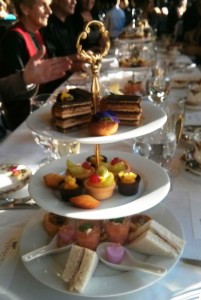 The verdict: 5/5 for taste, ambience and overall experience.
The place: Hippopotamus, 90 Cable Street (in the Design Hotel),  Wellington.
The budget: On the pricier side – best for a special occasion!