Oh, Reykjavik. You're unlike anywhere I've ever been. A year ago this week, a group of us flew into Keflavik, Iceland's largest airport in the midst of a mid-February Arctic storm. Rugged up against the elements, we battled the 500m from the terminal to the Geysir rental car office, leaning heavily into the wind to avoid being flung onto the highway as we walked. The stinging sleet burned my cheeks and my backpack attempted to soar off my shoulders, taking me with it, as a particularly strong gust knocked us for six. But we got there in the end.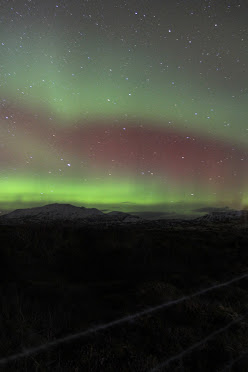 A dramatic entrance to a dramatic country. Then more drama when we discovered not only was our rental car gigantic, we had to drive it on the right-hand-side-of-the-road for the first time ever. During a hellish storm in an unknown land famous for wreaking havoc on travellers. Fortunately we made our way safely to the Hotel Grand Reykjavik (oh-so-lovely) and the rest of our team stayed at the Hotel Cabin, only a ten minute walk away. I have to mention right now that our friends had bought this very package deal through Iceland Air and the Hotel Cabin was chosen for them. We purchased our flights & accom separately and while it was a bit more expensive, I think it was the wiser choice…
DAY ONE: This was never going to be a relaxing group holiday, so we got up at crack-o-dawn and drove our rental cars in the direction of the Golden Circle, one of Iceland's most famous national parks. It was an incredible day out. We walked the rim of the Kerið volcano crater, got a steamy facial beside Strokkur geyser, and stared in awe at the chillingly beautiful semi-frozen Gullfoss waterfall. We walked along the fault line in Thingvellir National Park rift valley.
Our first dinner in Reykavik was at Cafe Paris, a venue chosen mostly due to the pressing need to feed 8 hangry people. For a place chosen on a whim, we were all happy with our orders. My traditional beef stew was melt-in-your-mouth goooooooood. We followed it off by cocktails at B5, just up the road and highly recommendable.
DAY TWO: More exploring in the cars. This time we just drove and drove, following our noses. We found an amazing beach to frolic on. Got lost in some mountainous bypass in the middle of a snowstorm. Found a strange icy tundra with big blobs of porous moss, that you could bounce on like trampolines (yes, I did). Went offroading in some farmland during a hailstorm (I mean, we never did that, Mr Rental Car dude). Chatted to some cute chilly horses, just hanging out by a barn. And ate a buttload of pylsas, Iceland's finest street food. Mmm hotdogs. Then we relaxed in the nearby Laugardalslaug hot pool: rather than meet at the pub after work like the English do, Icelandic folk meet and relax in a local hot pool for the equivalent of about £5 per person.
DAY THREE: Another early start but this time for the sole purpose of relaxing. We was going to the Blue Lagoon geothermal spas, baby. I can honestly say this was of the best days of my life so far. The azure-blue outdoor pools are unbelievably beautiful and there was just something magical about spending an entire day drifting lazily through the steamy pools with your favourite people by your side. The spa is cashless so to order snacks or drinks from the poolside bar, you tap your wristband on a special reader and pay your tab at the end. Dangerous. My favourite part of the experience was swimming from the cosy, warm indoor pool to the outdoor area via a giant 'catflap' thing, just so you didn't have to walk around in the cold. Brilliant.
To top off an already incredible day four of us went for an amazing dinner at Grillmarkadurin. We were feeling a bit adventurous and shared the whale, puffin and lobster mini-burgers to start (oh yes we di-id). I never thought I'd say this but whale is freaking delicious. For a main I nommed enthusiastically on the grilled redfish (holy shit it was good) while my boyfriend braved the horse burger. It was delicious, god knows what that Tesco scandal was about 😉
THE NORTHERN LIGHTS TOUR: In the words of Swedish House Mafia, this was what we were waiting for. Rather than attempt this ourselves we put our faith in the Reykjavik Excursions bus tour and it was worth it: if you miss the lights they will take you back several nights in a row (it took us 2 attempts). I love words but I can't really think of how to describe the Northern Lights. What I can say is that if you have the extreme privilege of this ever being an option in your life, do it. It's an eery, humbling experience. And it really goes without saying, but remember to dress warm for the love of God if you go out on the tour. Reykjavik during February was a balmy 0-5 degrees but when you're out on the tundra at night, waiting for the light show, we're talking a wind chill of -20 degrees Celsius. Brr.
RELATED READING: For tips and inspiration, check out this blog post we read before setting out on our self-driven tour. I also read Burial Rites by Hannah Kent after visiting Iceland and really wished I'd read it before we went… She captures the bleak beauty of the place perfectly and I got chills down my spine knowing some of the book's true events occurred in the very places we stood taking stupid selfies…
*All photos are my own originals, don't go using them without permission*